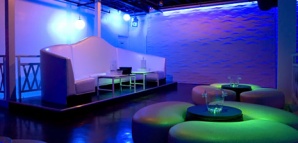 San Francisco has a lot going for it: great restaurants, avant-garde cocktails,
bike polo
.
But when it comes to nightlife, only a handful of "It" spots come to mind.
Which is why we're excited to introduce
Mist
—the city's newest ultra-lounge, soft-opening this Friday at 11th and Folsom.
Spotting the place shouldn't be hard—it's the one with a thin mist cascading from above. To bypass the mist and the line, you'll probably want to go the bottle service route, which gets you direct access to a few things you're used to (upstairs table, bucket of bubbly, admiration) and one you might not be: a private glass dance floor. In addition to the floor's obvious transparency benefits—let's just say the less gentlemanly guests downstairs will enjoy it—it's also engineered to be more durable than ordinary flooring, meaning it can definitely handle your Running Man.
You'll also be impressed by the opal-tiled main bar, which gives off a pretty strong glow, offering you a good look at your fellow loungers.
And just when you might be getting overheated dancing to mash-up DJs—some nights AM, other nights Le Freak—a layer of mist sweeps through the room and cools you down instantly.
For once, you won't mind the fog.