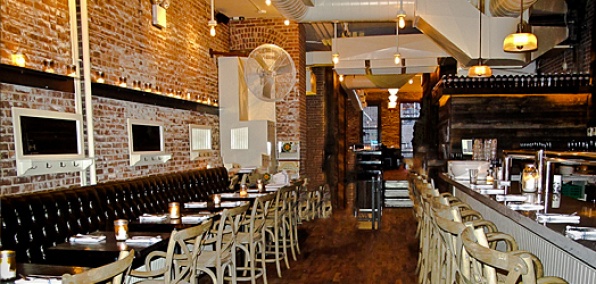 We made a promise to you a long time ago.
We swore, above anything else, that if we heard rumblings about a pickle-based restaurant, you'd be the first to know.
Wait, don't tell us you don't remember that...
The place is
Jacob's Pickles
, a Southern pub on the Upper West Side that cares very deeply about three things:
beer, biscuits and pickles
(though not necessarily in that order), now open.
Imagine an alternate universe (of unvarnished wood, exposed brick and mason jars) where pickles aren't relegated to comically small side dishes. And aged-cheddar cheeseburgers play second fiddle to cider-brined half sours.
Oh, also imagine that this universe makes its own biscuits, has an extensive growler program and serves three different kinds of root beer on tap.
Come by this rustic Dixieland of a bar when you're seeking the comforting/edible embrace of mushroom-gravy-smothered fried chicken sandwiches, shrimp and bacon cheese grits or, well, pickles.
They've got this whole brining business down to a science. Kirby cukes (both fried and raw). Asparagus. Green tomatoes. Candy beets. They've even pickled the house margarita.
And in a month, they'll unveil a private saloon down in the basement.
Or a brine cellar, if you want to be technical about it.