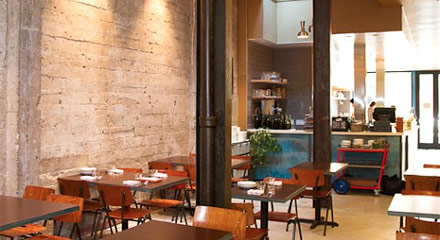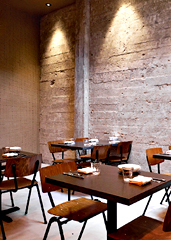 2012.
It's only a matter of time before we're hoteling in space, driving flying cars and eating freeze-dried ice cream.
Today, however, we're here to discuss the eating off of carts...
Introducing
State Bird Provisions
, a sliver of a restaurant that's doing away with formal menus by serving small plates dim-sum-style via carts and trays, officially opening tomorrow on Fillmore.
If you enjoy pointing at things that you like, this is your new spot. Also, if you miss homeroom. See, the space is decked with pegboard walls, lockers and a drawing of a local school baseball team.
Which sort of makes it the perfect setting to select the small plates from carts or trays being whisked around the room by waiters. There's a roving rotation of 25 ready-to-eat dishes, from steelhead caviar and carnitas-stuffed squid to their signature fried quail (made famous in their Rubicon days) and crispy chocolate croquettes.
And if you're rushing to a movie at the nearby Sundance, you don't even need to sit down. Just position yourself by the kitchen diagonally across from the aforementioned drawing (inked using a Sharpie), and you'll be strategically located to get first dibs on the dishes that go by.
Okay, this is a huge improvement over homeroom...