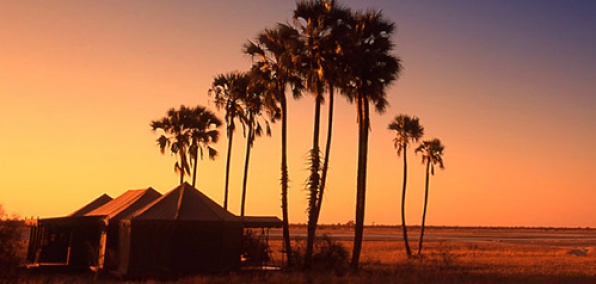 Merry Christmas.

And with that out of the way, we'd like to present our gift to you: a little intel on a humble blowout in Botswana...

Yep, Botswana.

Welcome to Mobile Safari Expedition, an ostrich-piccata-fueled, luxury-tent-housed journey through the heart of the African wild, booking trips now.

Basically, this is your chance to achieve total oneness with nature—over tea and cake from the comforts of your tent... which has a veranda. Six nights in the Okavango Delta chasing around every animal from The Lion King, three nights at a completely secluded camp where you'll be feasting on Botswanan roast beef and banana caramel layer cake (of course). Then, finally, you'll round out the trip with a visit to the Bushmen, who have a thing or two to teach you about summoning the gods through dance (in case you forgot how).

There's a lot to this, but your typical day is going to involve some light scouting out of hippos with your biologist/guide (think Darwin meets Crocodile Dundee), followed by a choose-your-own-adventure of watching either lions hunting or elephants at a watering hole. (Or, God willing, lions hunting elephants at a watering hole.) Then, boats: definitely boats for some river and wildebeest exploration. Once you're tuckered out, you'll finish up the day back in your minibar-stocked tent home.

Because that's how biologists roll.