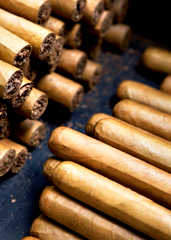 Sometimes holing up in a dark den with a good cigar is all you need.
Sometimes it isn't.
But if that dark den happens to be a safe house in the form of a 26-foot '77 GMC motor home turned cigar lounge, well, you need that.
Welcome
CigaRv
, a grand, mobile smoking refuge decked out with sofas and flat-screens—and, most importantly, 400 cigars for your smoking pleasure—accepting reservations now.
Since you're not one to puff up on an everyday basis, think of this well-ventilated mobile cigar lounge as your celebratory crash pad, where you and your fellow comrades can catch a game on the three televisions or settle in for poker night. You can also book this as a limo service and be up in Napa in the time it takes to smoke one presidente.
Whatever you decide to do, you'll ring up Jack to make the arrangements. And while he carries a varied stash of cigars like Arturo Fuente and Ashton, if there's a certain one you have in mind, he most likely has the connections to get it for you.
Finally, there's the matter of beverages. It's all BYOB, so how much you bring is entirely up to you.
Similarly: smoking jackets are discretionary.