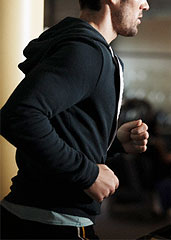 The season is here.
Of having a few extra sugar cookies. Downing one more glass of eggnog. Taking down a two-story gingerbread house in five bites.
But come January 1, 2012, you may want to get back to your non-gluttonous ways.
And when you do, we have you covered.
Introducing
InCinR8
, a fitness studio where you'll be whipped into shape with a little help from Jay-Z, opening next Wednesday in the West Village.
This is a no-frills workout dojo where you'll sculpt your body into that of a Greek god. (Or, you know, more so.) You won't see any computerized bench-press machines or an all-organic smoothie bar—just a small room with medicine balls, stepping blocks and 10 treadmills.
Your guru's name: Danny, and he's trained Whitney Port, among others. (She was on
The Hills
and has great gluts. Not that you knew any of that.) To build your strength before your Kilimanjaro hike, he'll have you do something called "Ripped 2 Shredz." To get into pool party shape (the season'll be here before you know it), there's "Gunz/Bunz (and Roses!)," where you'll be heaving medicine balls and holding warrior one poses.
Which reminds us: as you find yourself tired, sweaty and ready to give up, you'll want to pause and listen—Danny customized a playlist for each workout. So during that Gunz/Bunz workout, you'll be serenaded by Axl Rose.
"November Rain" is great for the core.