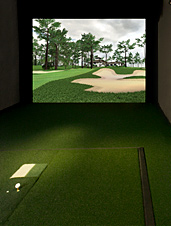 Temperatures in the high 30s this week.
High winds and possible snow to come.
In other words: perfect golfing conditions.
Allow us to explain...
Welcome to
OptiGolf
, the largest indoor golf center in New England and your peek at how you'll be golfing in the year 2087, now open in Middleton.
You'll first want to make the 30-minute trek here with your clubs (or just use theirs) and set up in one of the nine simulators (snag one by the 14-foot HD projection screen near the full bar). You'll select one of 75 championship courses (go Pebble Beach) and warm up (yes, there's a virtual practice green and driving range).
Then, your round begins. You'll be whacking golf balls at a huge screen about 10 feet in front of you from a 20-by-20-foot turf station, which uses sound-capturing technology to present the most accurate feedback on how your shots were hit (in your case, long and straight). Once you get into the short game, overhead lights come on over two very real holes on your green for real live putting (don't forget to be the ball).
There's even a 600-square-foot conference room in the back, should you need to get a little work done before 18 holes (and
a few cold beers
) with some coworkers.
You conference better near sand traps.