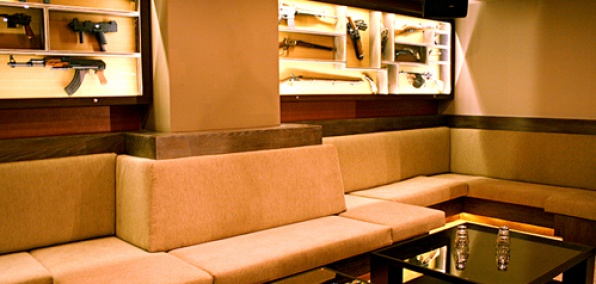 This particular story starts with you, your date and a seedy alley in South Beach.

Trust us, it gets better.

Because behind an unmarked door on an easy-to-overlook side street off Alton, you'll find a secret hideout brimming with neighborhood charm. Oh, and vintage guns...

Behold Foxhole, an invisible-to-the-naked-eye cocktail lounge, quietly opening this Thursday.

To find this place you'll need to make your way to the back of the Domino's on Alton and 14th Court (always the beginning of a memorable night). Look for the unmarked gray door that may or may not have a bouncer standing outside of it. Walk through and your night begins.

Don't let the location fool you. The place is pretty slick—a polished cement bar, plenty of deep leather booths and an Internet-enabled jukebox that ensures they'll have whatever James Brown deep cut you're longing to hear.

Your play: a round of beers over pool or darts in the game room at the entrance. Then, when you're looking for something more private, head to the upstairs lounge. There, the couches are flanked by cases of vintage weaponry, including Revolutionary War muskets and mafia tommy guns—which are, of course, not loaded.

In case you were wondering.