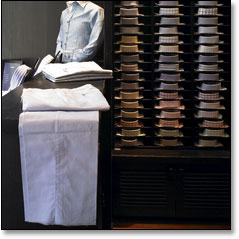 Ah, there's nothing like a good pairing. Chenin Blanc and Camembert. Rib-eye and truffle-whipped potatoes. Forty-Niners and Sundays.
And of course that timeless combo: shirts and pants.
It's a duo they've recently embraced at
Café Coton
, already your go-to for triple-woven dress shirts and hand-sewn ties. Yep, after two hundred years in the business, the French textile experts are giving you a side of trousers. (Guess they decided it wasn't just a fad.)
You'll find the goods neatly folded in mahogany cubes along a wall by the front door. They have neither a fancy name nor any secret compartments. In other words, they're just the way you like them: flat front, unhemmed and uncut, so you can have them tailored to your precise measurements. (Think khakis taken to the next level.) Put them on and you'll notice a European fit, with a low, but not too low, waist, a straight leg and one of four color options: beige, khaki, light blue or olive.
Maybe best of all, they're made with a buttery-soft 100 percent Egyptian cotton, so she'll enjoy touching them.
This in turn could lead to another pairing you're quite fond of.
Shirts and skins.