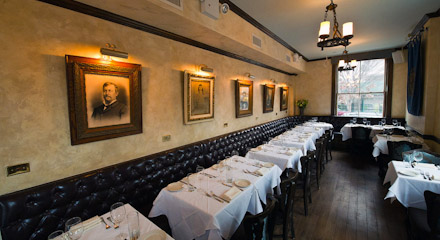 [Option_A_Left_Column]If you've learned anything in all your years of watching political thrillers and vacationing at evil underground lairs, it's that you never ever push the red button.
Well, today is a day for unlearning.
And for champagne.
Presenting 
King
, a culinary castle in SoHo where the bone marrow is bountiful and the tables are equipped with silent champagne call buttons, opening this weekend.
Here's what happens when a founding chef from wd~50 tries his hand
at regal, retro European fare
. You get a gin that's imbued with sriracha and served from a bar that's shaped like a throne.
Now, because this is the time of year when you're treating everything (even your dinner dates) like a holiday party, you'll come here over the weekend for the kind of meal one could confidently file under special occasion (or just another Saturday).
Reserve one of the snug wood tables on the mezzanine. They're the ones enclosed by a wrought-iron fence and bathed in flickering chandelier light. They're also the ones that sport their own dedicated champagne button. Press it, and a server will immediately appear carrying two coupes, an ice bucket and a half-bottle of Veuve Clicquot.
As for ordering your entrée, well, any sentence beginning with the phrase "veal sweetbreads" should suffice. But we'd humbly suggest sampling the béarnaise-slathered
King Burger
.
Unfortunately, the burger button is currently out of order.