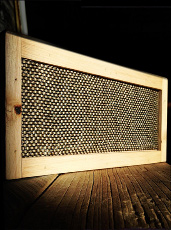 Your chestnut martinis: roasted.
Your mistletoe chandeliers: hung.
Your deconstructed fruitcake canapés: almost deconstructed.
In other words: you're just about ready to throw the greatest holiday party in Southern California history. All you need now is a little help from Michael Jackson. Via your sound system...
Presenting
Havenhurst Sound by Croft House
, a new collection of speakers built with the flooring from the King of Pop's old LA dance studio, available now on La Brea.
If you haven't been by Croft House yet, it's a shop full of fancy-rustic home stuff that wouldn't look out of place at
the Churchill
—which, incidentally, was designed by Croft's proprietors. And when the store decided to carry some badass speakers, they turned to the late, great MJ. Or at least the floors on which he once moonwalked.
You've got four speakers to choose from, from small to fill-up-your-wall size. And all of them sync with your phone or iPod via Bluetooth, so there'll be no ugly wires between speaker and playlist. Some are built with maple from Michael's studio, and some use ancient Douglas fir from a recording studio at Capitol Records. Either way, you'll be lending gravitas to "Grandma Got Run Over by a Reindeer."
When turning up the volume, don't stop 'til you get enough.