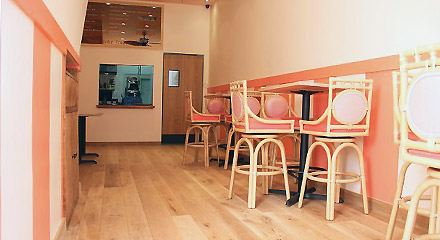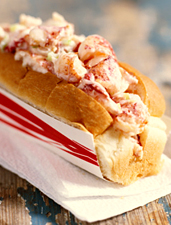 "Winter."
So far, so good.
We're beginning to think that if we keep pretending December isn't happening, it actually won't.
So this weekend, you absolutely should go to the Hamptons.
Or if that's too ambitious, just wait till their lobster rolls arrive in Chelsea next week.
Introducing
The Claw
, the kind of seafood shack that belongs on a beachfront road in Amagansett, not West 23rd Street, opening Wednesday.
That's the funny thing about lobster rolls. The second you stop trying to look for them is the second they start coming to you. So sit back, play it cool, and by this time next week you'll have a toasted potato bun in your hand that's stuffed with tarragon-seasoned tail meat and oozing with drawn butter.
In a perfect world, you'll drop by this coral-striped establishment around lunch. Sit in their one white banquette beneath a wicker ceiling fan and treat yourself to a basket of crab beignets (yourself will thank you) or some brioche-topped lobster mac.
And when you're ready for a roll, there are a few important things to consider. Like, say, the inclusion of lobster (you can swap the meat out for Frangelico-sauced scallop). Or the addition of double-smoked bacon lardoons. They call it a surf and turf roll.
But feel free to come up with your own pet name.