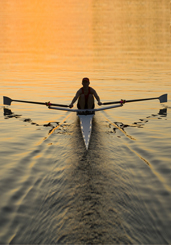 Let's talk about the
World Indoor Rowing Championships
.
And about how: a) anyone can enter, and b) they're only 81 days away.
In other words: it's time to get to work. With the help of a former Navy pilot. And a fancy rowing machine. In Brighton.
Presenting
Intro to ERGing
, a three-month plummet into the world of crew via machinery used by Olympic rowers, accepting sign-ups for December now.
Sure, your body is carved from wood. Your back muscles: they have back muscles. But even your Winklevoss-ian physique loses its Winklevoss-ness without some upkeep (note: this will in no way lead to a massive Facebook settlement).
So try this:
sign up
, then head to the Community Rowing Boathouse in Brighton to meet the instructor. About him: he's an avid rower, as well as an ex-Navy chopper commander who flew submarine-hunting missions à la
The Hunt for Red October
before later becoming a Boston stockbroker (no, he can't give you market tips).
You'll meet the ERG (aka a high-tech indoor rowing machine), learn how the display works and go over the basics of the rowing stroke. Then, you'll do a few pace sessions, and before long, you'll be getting barked at through a megaphone while everything from the Kooks to alternative Eastern European music plays.
Basically the "Eye of the Tiger" for rowing.