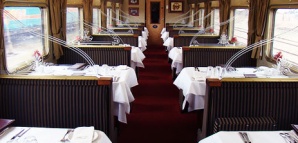 Most sojourns, your idea of train travel consists of the shuttle from one end of Heathrow to the other. But your esteemed forebears knew that nothing beat the lure of a first-class carriage—especially through points unknown.

And times haven't changed so much. Especially when it comes to points unknown.

So familiarize yourself with Australia's transcontinental Ghan train, the longtime choice of Aussie wayfarers and visiting dignitaries. Starting next month, it'll host a 25-cabin, five-car journey through the heart of Australia. Consider it the hottest new way to see the Outback, a boutique hotel carving its way up the continent.

You can choose from several packages, but the Platinum Service is really the way to go. Each oversized cabin, twice the size of their already-roomy predecessors, is trimmed in Tasmanian Myrtle wood and includes 24-hour room service, allowing for round-the-clock access to your favorite shiraz. While the amenities match any stationary accommodation, the panoramic windows never let you forget you're on the move—over 3,000 kilometers of track, from Adelaide on the southern coast to Darwin up top.

If you're feeling especially regal, consider the Prince of Wales Private Carriage—an entire car for you and your party, with cathedral glass doors and a carved wooden lounge, built in 1919 for the Prince himself.

After all, we know how you like the royal treatment.