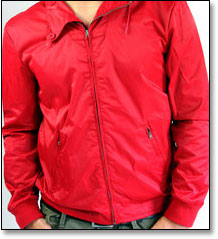 We've given that conversation we had with you last night a little more thought, and we think you're right.
"Style tips are great," you told us over your third Stella, "but in the end, you have to create your own look."
Speaking of which, there's a new brand in town with a similar philosophy—
You Must Create (YMC)
, it's called, as in, "You must create your own style." It's from London, and it's only available at Acrimony, that eclectic little boutique in Hayes Valley.
There are a couple of things we really like about YMC. For one, its fall collection isn't that large, which is good because making decisions can be difficult. For another, all of its clothing blends function with style, which makes it perfect for this city's ever-changing weather.
Take the fire-engine red
P5A81 jacket
. It's pretty eye-catching, in a James Dean kind of way. And even though it's lightweight, its elasticized waist and cuffs will help you stay warm, and its zippered front pockets will keep valuables safe.
Also, it's got a drawstring hood, which should help conceal any black eyes you pick up in bar fights.
Which plays perfectly against your dangerous style.