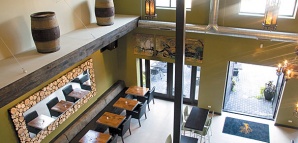 They say that the prettiest gardens are ones that grow in the unlikeliest of places. But you say they're the ones that offer the best beer selection. Who are we to argue?

Starting tomorrow, you can raise a glass to compromise when Old Oak Tap turns an up-and-coming stretch of West Town's concrete jungle into your late-season beer oasis.

The front patio, bedecked with potted flowers and cushioned banquettes, somehow doesn't overdo the frills, looking like the kind of front yard you'd design: space for lots of friends (like 100 of them), 30 to 40 different kinds of craft and imported brews at the ready and, of course, no grass to mow.

A trio of Chicago bar vets are behind the place (including the folks behind the Continental and Darkroom), and have recruited top-tier talent to design a menu of better-than-average summer bites, including a house burger topped with sweet onion jam and Vermont cheddar.

When the weather fades, you'll find plenty of natural beauty inside. The stone-and-soaring-beam motif pulls copious amounts of natural light, recalling your choicest Aspen getaway spots. There's even a semi-secluded upstairs loft that lets you escape with your favorite snow bunny, while still keeping an eye on the action down below.

Just in case any more natural beauty drifts in.