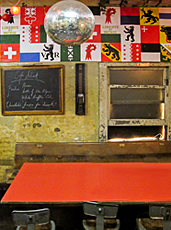 The Swiss are pretty good about hiding things.
Slush funds in their banks. Toothpicks in their knives. Miniature marshmallows in their powdered hot chocolate packets.
And now, fondue safe rooms in their restaurants.
Welcome to the
Fondue Room at Café Select
, a discreet dining chamber in Serge Becker's eatery that's solely dedicated to perfecting one of the most famous trends of the '70s (hint: it's not swinging), now open.
Normally, we'd tell you to wait until the official start of fondue season (January 12) before making a reservation here, but this is as good a place as any to
prep your body for Thanksgiving
.
So tonight, you and the only person you know who spells her name with an umlaut will meet at the closest thing to a ski chalet in SoHo. Walk in the front door, pass through the kitchen and enter into an intimate boiler room where little gondola lifts dangle from the ceiling and Swiss flags wrap the walls.
If it's dinner, fondue laced with white truffle oil (yes, you're correctly detecting hints of roquefort) is the play. If it's dessert, go with the unlisted special of melted Toblerone and Jacques Torres dark chocolate. And if it's a half day tomorrow, tell your waiter to spike the pot with a shot of cherry water brandy.
Or just tell him to keep pouring till you say when.