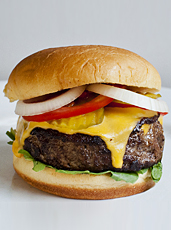 We're calling an emergency session of the barbecue congress.
This hallowed body only meets in times of immense importance.
So you know it must be huge news.
And you're right.
God, you're
so
right.
Prepare to vote yea for the
Pat LaFrieda Online Store
, a direct link between you and the most legendary burgers of our time, taking orders now.
By now
you're familiar
with Pat LaFrieda. He's nothing short of a meat whisperer, responsible for the beef in such heavenly morsels as the Black Label and Bash burgers in New York and the Natural in LA. Up till today, you had to go through a middleman to get his goods on your home grill. But now, those days are over, and the barbecue gods rejoice.
If you've ever ordered something off the Internet (a stretch, we know), you should be fine here. You'll visit the site, choose what you want (some short-rib blend, a little brisket blend, maybe a few filet mignons) and buy it. And, oh yeah, you've also got your choice of some sausages, a meatloaf mix, dry-aged steaks and other non-burger options here. (LaFrieda aprons: done.) In a matter of days, the goods will be at your door...
We'll assume those are happy tears.