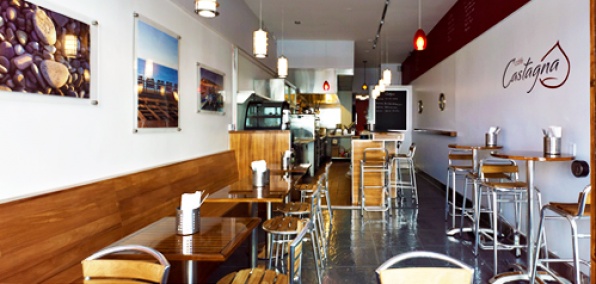 Monica Bellucci and Carla Bruni walk into a bar.
No, wait, they are the bar.
Let us explain...
Introducing
Castagna
, a breezy spot that's combining the best of Italy and France in one boat-sized bistro, opening later this week on Chestnut.
Now, while you're right to be wary of a joint that tries to be too much to too many people, this place is all low-key charm, French on the surface with a heavy dose of Italian in the cooking. The kind of place you might drop into if you found yourself craving pizza along the Côte d'Azur.
Stepping inside is like coming aboard a 40-foot yacht that was docked on the Marina's main drag. The tables look like a boat's deck, and the wood banquettes and faux boat windows are reminiscent of a ship's cabin.
Drop by in the morning for a ham-and-cheese crepe with a side of Nutella-stuffed beignets, or if you come in for lunch, you'll find lots of pizzas and pastas
on the menu
(go for the bacon-and-crème-fraîche
Campagnarde
).
For now, you'll be able to get breakfast and lunch. Then, when dinner starts next month, you'll also be able to take out pre-prepped meals like duck confit packed in a sous-vide bag for you to heat up at home.
Good thing your microwave has a "sous-vide" setting.