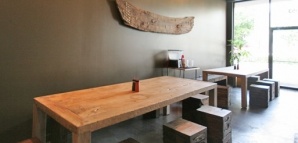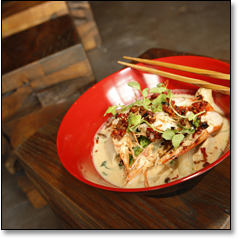 No one does a night on the town like you. It's amazing how far a clean shirt and a few stories about you and Clooney in Burma can take you.
But even your low-profile evenings are pretty spectacular.
So grab a bottle of gewürztraminer and head to
Urban Belly
, your new BYOB noodle-and-dumpling hideaway opening Tuesday in Logan Square.
Nestled in a middle-of-the-block mini mall—adjacent to a laundromat, no less—no one would suspect what's inside. And we don't just mean the seared pork belly and soaring pitched ceiling.
Star chef Bill Kim (Le Lan, the nascent Soul in Clarendon Hills) and his wife have created nothing less than the culinary version of the Batcave for their quick-serve alter egos.
You'll order at the counter, grab some chopsticks, then sit down at one of the four amazing communal tables, 200-pound slabs of Chinese elm with cubed seats hewn from Thai railroad ties.
The streamlined menu is both simple and decadent: noodles (like
Somen with Shellfish and Coconut
), dumplings (
Lamb with Hoisin-and-Brandy Vinaigrette
) and fried rice (aka, the land of pork belly).
If you run low on gewürztraminer, ask for one of the exotic Korean fruit drinks like
Bon Bon
or
Sac Sac
.
Then break out the vodka.