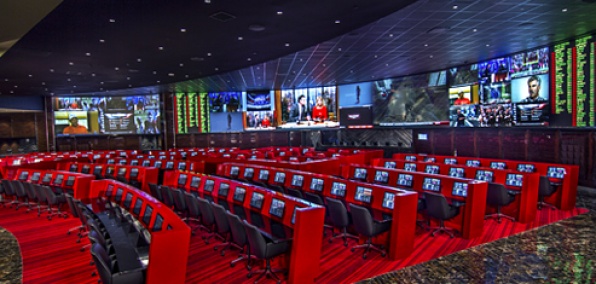 We heard an intriguing rumor recently.

Apparently, there are places in this town... where you can bet.

On sports.

We know. We're as shocked as you are.

Apparently, it's right out in the open...

Introducing Cantor Race & Sports Book at the Venetian, a marble and ebony temple of high-definition screens and gentlemanly athletics-wagering, taking bets now.

Imagine a world where Pete Rose was given free rein to just... create, and it would look something like this: 1,000 square feet of plasma display (plenty of room for 34 games and whatever races are afoot) with 118 betting command posts, where you'll hunker down and claim your well-deserved fortune built on Tom Brady's right arm (maybe they'll also let you bet on whether we'll see NBA games by 2012).

Now, we understand you've got a lot of ground to cover at the Venetian (the blackjack, the gondolas, the Tim Allen), so you'll of course be outfitted with an Android app that lets you bet and keep track of your wagers in real time from anywhere in the state of Nevada.

Moapa Valley, here you come.