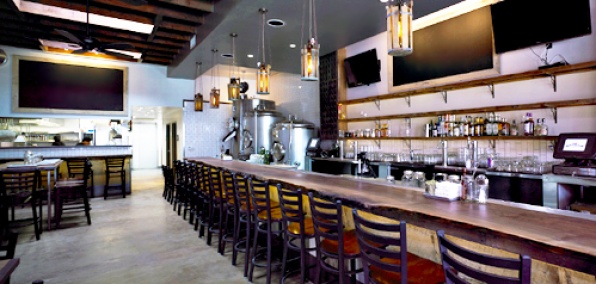 Grilling season might be over.

But Southern-style BBQ seems to be experiencing a revival.

Which, when piles of ribs and highballs of bourbon are involved, makes a whole lot of sense...

Welcome Southpaw BBQ, a woodsy, self-contained chapel of Southern BBQ equipped with its own brewery and cocktail bar, opening Thursday in the Mission.

Run by a few Southern transplants, this brick-and-timber den has the kind of slow-smoked pedigree you'll appreciate in the form of expert takes on brisket (braised slowly and lovingly with their house-brewed beer), pulled pork and Delta Grind cheese grits. Of course, a few rounds of classic Southern cocktails like Sazeracs help in that appreciation as well.

Imagine a plantation house from the Antebellum South got hit with some subway tiles and was dropped onto Mission Street, and that's what this is like. So instead of a wide front porch, you'll find big, sliding glass windows opening out to the street. And where a sweeping staircase might be, you've got a long bar crafted from a felled walnut tree and some brewing tanks.

On a side note, they've teamed up with a certain notable local brewer to show them the ins and outs of crafting ambers, stouts and whatever else comes to mind.

We've already requested a brisket stout.