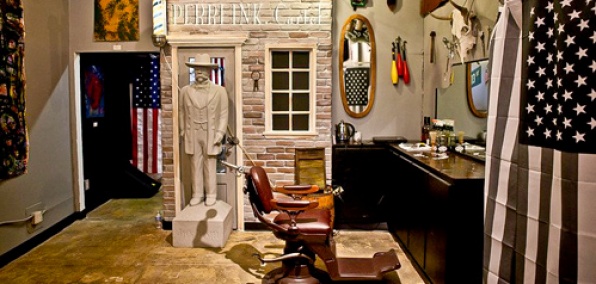 You almost got through your to-do list this weekend, but a few things remain:

You didn't have time to get a haircut. Or a shave. Or a motorcycle seat. Or a tattoo. Or an electric guitar.

In the name of minimizing your time spent in Monday traffic, let's just take care of all those things at once...

Introducing Perri Ink. Cartel, just your everyday, garden-variety barbershop/tattoo parlor/guitar store/T-shirt vendor/motorcycle upgrader, now open on Melrose.

So yeah, there's kind of a lot going on here. The best way to think of it is like a full-service spot to up your edginess by at least 225% in a single visit. Or, you know, a place to get a haircut.

Just look out for the chopper-y Nash motorcycle in the front window. They sell plenty of bike parts inside. And by the time you get to the barber station in the back—past the counter, some lockers and several flags—you might find yourself sporting a new black T-shirt, lip piercing, sleeve tattoo and guitar. (They're the real deal here. One of the owners used to play with Perry Farrell.)

And if you're squeezing this all in before your photo shoot (you're the new eyebrows of a major sunglasses campaign), have the agency book it at the Cartel's full-service studio.

Oh, did we not mention there's also a photo studio?