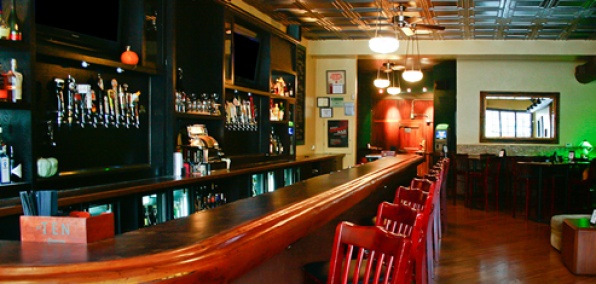 Sometimes you need to go big.
Like, black-tie masquerade replete with caviar martinis and an ice sculpture of Bill Cartwright big.
Other times, there's this.
Welcome to
The Green Lady
, a new beer-lovers' refuge with 30 craft brews on tap and another 38 in bottles, now open.
First, some history: this building has been a bar (most recently the Shire) since the 1880s. If you look in the basement, you'll even find a secret compartment where they hid booze during Prohibition. (On the plus side: you may find some very aged moonshine in there. On the minus side: the compartment's welded shut.)
These days, the tavern borrows its name from a Scottish folktale about a woman—half blood-sucking demon, half benevolent protector—with a beautiful face and a long, green dress to hide her hooves. (You know the type.)
Now, you could mistake this for a 19th hole in the Scottish Highlands. Old city photos on the walls. Wood floors. Music at a conversational level.
The main event:
an ever-changing beer list
,
off which you'll select, say, a winter barley wine—the Southern Tier Back Burner is especially fortifying this time of year. Though for something a little more illicit, ask about the off-menu collection of vintage brews.
No welding required.