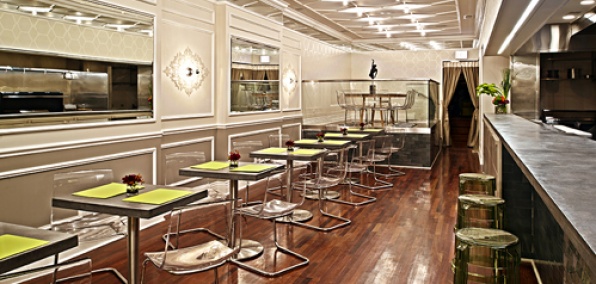 Wake up. Breakfast. Work. Lunch. Dinner. Bed.

A chain of events that's okay for some people. More power to 'em.

Then there's you, the sort who, if you need malted custard french toast at 8pm, well, somebody better damn well find you some malted custard french toast.

Okay, simmer down. Today, we're reintroducing you to Jam, reopening next week in a shiny new Logan Square location as your willing servant for breakfast, lunch and dinner.

Sure, it's a spot that needs no introduction. You spent some fine late mornings tucked away in its former Ukrainian Village confines, digging into a fat Jamburger or a pork cheek sandwich. You'll find those old friends here.

In fact, at first blush, you'll think this is a clone—a brighter, bigger, more glamorous clone—but there are the same lime green accents, the same transparent plastic chairs and the same Trotter's/North Pond-trained chef.

You could go solo here. Pull up a stool at the counter that's so close to the kitchen, you're practically a sous-chef. Or think of this as the only all-day diner where you could take someone on a first date.

If you want dinner, they'll have a blue plate special of sorts. Maybe venison stroganoff. Maybe a turkey dinner with sweet potato corn bread and a cranberry gastrique. But if you want the simple pleasure of chocolate pancakes with toasted marshmallow, hey, you got it.

We'd hate to be the one trying to stop you.