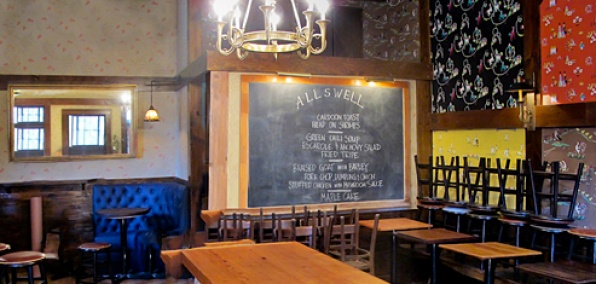 You look like you could use more Spotted Pig.

We know, you already have plenty of Spotted Pig.

It's just that when we hear about pork-stuffed pastry rounds and roast legs of lamb, we immediately think about you.

And we mean that in the nicest way possible.

So here's Allswell, a homey, 47-seat/stool Williamsburg pub that's helmed by a Spotted Pig expat and extremely serious about its meat pies, slated to open Saturday.

In case this weekend's impromptu snowstorm wasn't enough of a heads-up, it's British gastropub season. And this chalet-like lodge—with its weathered pine bar, broken-in blue banquettes and hunting-horn chandeliers—is exactly the sort of shelter you should be looking for.

In the coming inclement months, you'll seek out this Brooklyn cabin when you need to generate the kind of heat that comes from comfort foods like lamb stew, pumpkin soup, and corned beef and cabbage pie. Or when you need to meet your quarterly quota for whole-suckling-hog consumption.

After midnight, the spot to sit will be up at the bar. Order a mug of mulled wine or the cidery Christmas Punch and then ask about the burger. See, Nate—he's the chef—and Sophie—she's Nate's wife—have built a late-night cheddar cheeseburger from scratch (bun, fried onion and all) that takes more than a few cues from Spotted Pig's revered patty.

Most labors of love are best served medium rare.