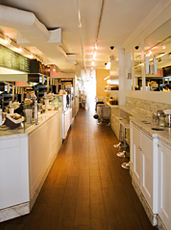 From the people who brought you Lady Liberty, brie and chain smoking in public...
... comes the single most important egg-sandwich-related development of our generation.
Or at least of the past week. In SoHo. That prominently features a warm brioche bun.
Presenting
Dominique Ansel Bakery
, a sweet-and-savory Parisian pastry shop that happens to make one hell of a breakfast sandwich, opening tomorrow.
If you're perpetually in the market for cotton-soft cheesecake and industrial-strength lattes (or know someone who is), then Mr. Ansel is your guy. After six years baking Michelin-starred madeleines for Daniel Boulud (and a lifetime working the croissant-strewn sidewalk café scene in Northern France), Ansel decided to move his goods to a secluded, all-weather greenhouse on Spring Street. And naturally, you go where the cinnamon rolls go.
The initial draw here will be that aforementioned ethereal breakfast sandwich—an herb-seasoned scramble that's covered with melted gruyère and served on hot-out-the-oven brioche.
But when you want dessert for lunch, ask up at the marble counter for the off-menu
Gâteau Battu PB&J
(a moist beaten cake native to Picardy). And when you want dessert for dessert, order their signature
Paris-New York
—a cream puff pastry ring that's filled with peanuts, caramel and chocolate.
In France, they call it le Snickers.