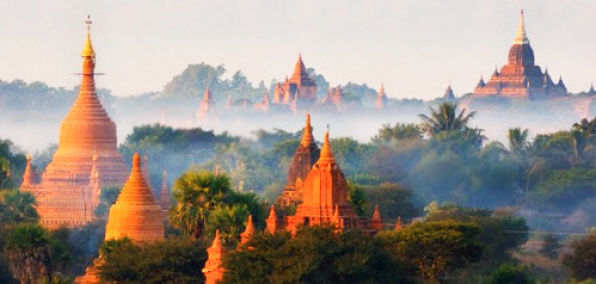 You've been known to want what you can't have.

This has, on occasion, led to some awkward situations. (Let's just say Seal's a little protective of Ms. Klum.)

But on other occasions, it all works out. And we think this might be one of those occasions…

Introducing Temples and Trails of Burma, two weeks of trekking, river-riding and all-around exploring the once off-limits country also known as Myanmar, taking reservations now.

Rudyard Kipling wrote a poem about this—Sinatra sang a version of it. And while we can't promise you'll land a winsome Burmese beauty à la "Mandalay," we can guarantee you'll ride the waters of the Irrawaddy on a riverboat similar to those used by the British colonial platoons Kipling kept going on about.

This journey starts in the one-time capital city of Yangon (former name: Rangoon), where you'll get accustomed to seeing orange-robed Buddhist monks and impressively constructed pagodas. From there you'll fly north to Inle Lake to visit a vineyard (Burmese wine: it's a thing), boat through floating villages and hang out with acrobatic cats. Yes. We said acrobatic cats.

And that's just the beginning. For three straight days you'll trek through the forested hill country, visiting and supping with native Pa-O villagers and sleeping like an ascetic monk in bare-bones monasteries. You'll see stupas piled on stupas, caves littered with golden Buddha statues, a 90-ton brass bell and, in the archaeological mecca of Bagan (just downriver from Mandalay), ancient temples that will make you feel like you're filming an Indiana Jones sequel.

Just be sure to remember your whip.