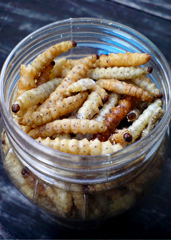 This is not a trick.
It might be a treat.
Either way, it's sweet. And it's spooky. And it concerns your next moth larva taco...
Behold
Don Bugito
, a Halloween-appropriate outfit dedicated to slinging edible bugs, appearing at Heart on Halloween.
First, meet Monica, the chef/owner/insectophile behind this thing. She has taken it upon herself to make insects a normal part of your everyday dining. (We're sure she has her reasons.)
If you sampled this stuff at the Street Food Festival, you'll know that the wax moth larvae in the tacos have a nutty, smoky, almost bacon- or chicharrón-like flavor. They're sautéed with a little butter before being tucked into the taco, so you'll barely know what it is you're eating. (Barely.)
If you're more of a bugs-for-dessert type, try Don Bugito's other specialty, dubbed
Crispy Toffee Mealworms with Vanilla Ice Cream
. It's like a bug sundae—topped with caramelized mealworms that add a peanut-like taste and consistency. Actually, that's exactly what it is.
Until she gets her full-time food cart up and running, you'll find her at events like Heart's Day of the Dead party on Monday. There, in addition to her mainstays and other fried delicacies (duck fat chips with larvae), she'll also have Linden Street's black lager on hand.
In case you need some liquid courage.