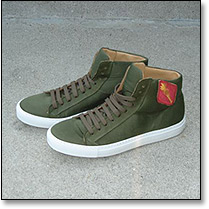 If Clooney can get a post-
Roseanne
Oscar and Kenny Rogers can be reborn as the head of a fast-food-chicken empire...well, the glory of reincarnation isn't so tough to believe in.
So you might be interested to hear about the shoes you'll find in 
The Generic Man Pop-Up
, which had a whole other life long before you came along to scoop them up.
Now in its dry-run phase, the temporary shop sort of works like the Russian nesting dolls—first you enter Fred Segal (itself a cluster of independent purveyors), and inside that you'll find Hollywood Trading Company, and inside 
that
 you'll find the Generic Man. (You've always said it's what's inside of what's inside that counts.)
It's there you'll unearth, for just a couple weeks, a few pairs of rare canvas 
Chuckmans
—available first in gray, then black after that. With just two pairs of lace holes, they'll fill your minimalist-shoe quota for the year.
But that's just a warm-up for the official debut party (mark down August 23) of the
Re-Edit Series
, which bows here before going international next year. The series re-uses vintage army materials to create one-of-a-kind, handcrafted pairs of shoes that are both environmentally and literally green.
You've always said it—make shoes, not war.