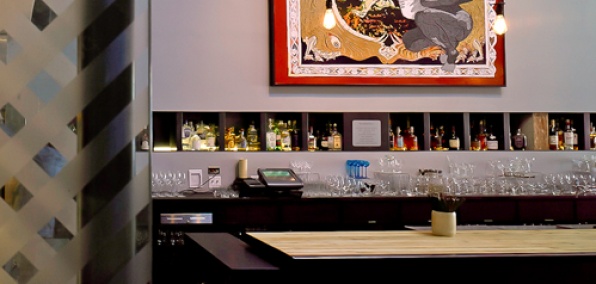 You've heard the rumors. The whispers. The rumblings.

All up and down Valencia Street, people were saying: the Slanted Door is back.

And we're here to tell you:

It's not. But it might be something even better... 

Welcome to Wo Hing General Store, the newest addition to the Slanted Door empire, opening Friday on Valencia.

Now, you might remember this spot. You may have even closed a deal or three over some shaking beef back when it was the original Slanted Door. But after a mere nine years of vacancy, the space has been reborn as a two-story temple of Chinese street food.

You'll come here for a quick dinner, or maybe some after-work cocktails. Start at the bar—made with strips of Douglas fir from an old bowling alley, and positioned under light fixtures made from old woks—for a quick dry sherry punch or a piña colada mixed with housemade coconut cream.

Then head upstairs to the mezzanine, where you'll see the fence-like dividers made from the panels on old bus shelters. (You'll be happy to know that it doesn't smell like an old bus shelter.) Then, your dinner: an epic tour of Chinese street food, including dim-sum-like dumplings and wok-tossed salt-and-pepper spare ribs to oyster egg crepes.

Good thing you've always been a long-distance eater.