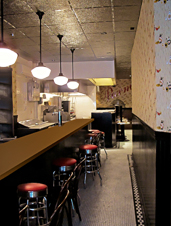 We've analyzed your lunch and the results are in.
Good job with the fruit, vegetable and martini groups.
Lackluster effort on the chicken parm front.
It's okay. Don't worry. You'll get 'em next week.
Introducing
Parm
, a new purveyor of glorious Italian sandwiches from the guys behind Torrisi, opening next Tuesday.
In the lunch world, this is the kind of event that would qualify as a national holiday. It's basically a new Torrisi, located right next door to the original. Only instead of focusing on twisted Italian tasting menus, this place will be all about the subs.
We're talking chicken parms, of course, and a newly minted mozzarella-draped meatball number. You'll sample them all from the cushy diner stools along the long stretch of sandwich counter to the left.
And okay, we lied: it's
mostly
about the subs. It's also about non-bread-bound options. Like baked clams. And pork chop pizzaiola. And cocktails. (Which reminds us: they have booze.) Oh, and a riff on Carvel ice cream cake. (It's not just for birthday parties anymore.)
Should you find that your desires for chicken francese heroes don't fit neatly into society's acceptable lunch hours, you'll be glad to know that table-service sandwiches are also available in the evening.
You do some of your best eating after dark.