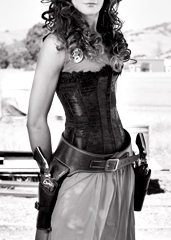 Your coffee table could use a little something.
Something thought-provoking and somewhat unexpected.
With grandiose imagery...
… of beautiful women and a little light artillery.
Allow us to present
Chicks with Guns
, a new gallery-worthy collection of portraits shining a light on sharpshooting markswomen with a relentless affinity for firearms, available now.
Not to be confused with "Chicks Who Love Guns" (Quentin Tarantino's opening video in
Jackie Brown
of bikini-clad women sporting guns),
Chicks with Guns
leaves a little more to your imagination. Think more
Cosmo
meets
Field & Stream
, and you've got the idea.
The book, shot by SF-based photographer Lindsay McCrum, is essentially a highly curated photo series of 81 modern-day Annie Oakleys from all over the country. So you might just casually leave it on the table before poker night and take it from there.
Flipping through the glossy pages of photos (and perhaps reading the bios) in this oversized hardcover, you'll get the strong sense that these women—former cops, competitive shooters, caribou hunters, a debutante or two—don't mess around.
Take, for example, Jessica, a helicopter pilot from San Antonio with her Smith & Wesson revolver propped on the wing of a vintage plane. And Jamie, an ex-cop from Loomis, CA, with her .44 Magnum at her side.
The next logical step:
Chicks with Guns 2
.