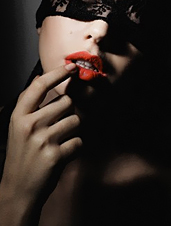 You've been eating dinners for a while now.
By this point, you could cut a steak, dress an oyster and debone a duck with your eyes closed.
And to that we say, prove it.
Welcome to
Dans le Noir
, a new restaurant from across the pond where multicourse meals are eaten in the dark... and served by the blind, taking reservations right now for the December 2 North American debut.
You'll begin in a well-lit bar. A minor detail you'll come to appreciate. After you've loosened up (and committed a picture of your date to memory), a waiter will come over. A blind waiter.
He'll ask if you have any food allergies, take your order (all of the menus are sorted by food type and highly classified) and lock away anything you have on you that might glow (cell phones, lighters, road flares).
Then, you'll enter the Dark Room (essentially a 72-seat black hole), where your remaining four good senses will help you navigate a series of perception-skewing courses (flights of foie gras, Asian-butter-sauced barracuda).
The primary goal: appreciate food in a whole new way. The secondary goal: get more in your mouth than on your shirt.
When the meal is over and you head back to the bar, your server will be waiting with a stack of photos that'll reveal in great detail every dish you just ate.
Allegedly...