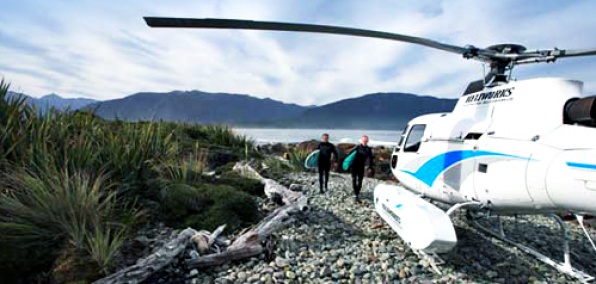 The perfect wave.

It can be an elusive thing. Closely guarded by locals. And largely dependent on forces beyond your control.

Maybe if you had a helicopter...

Presenting Heli-Surfing in New Zealand, a seven-day trip where you'll helicopter the coasts of the North and South islands in search of the country's best breaks, taking reservations now.

Normally, you'd be chasing the weather, choosing among accessible (and crowded) beaches, competing for waves with surfers who are cut like Maori warriors. It's funny how things change when you have a helicopter—and access to private land.

After you fly into Auckland and settle into your beach villa in Oakura, you'll commence the helicopter-beach-surf circuit. Your itinerary was created by an in-the-know local, and you'll spend three to four hours per day in the air. That Zen-like patience will be rewarded when you and your longboard (or shortboard, or bodyboard) catch undiscovered breaks at isolated beaches and glide through the day's best barrels.

If you want to mix it up, there's bungee jumping or cave tubing. And when you're finally ready to relax, you'll kick back with some Steinlagers next to a beachside bonfire and discuss the best parts of Point Break.

And by best parts we mean when Anthony Kiedis gets shot in the foot.