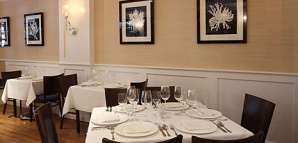 Childhood memories rarely inspire your business decisions.
Nor should they. Otherwise you might be the proud owner of three popsicle stands and a giant marshmallow factory.
But if you're a French chef who's spent time in the kitchen at French legend Atelier and cooked for
Alain Ducasse
, calling upon your idyllic youth on the Riviera is probably the smart move when it comes time to open your own place.
Introducing
Allegretti
, the new Provencal French boite, and welcome entrant into the scant Flatiron dining scene, opening tonight.
Walking into Allegretti, you'll instantly be reminded of other recent casual/upscale ingredient-focused restaurants like
Bar Blanc
 and
BLT Market
. You may also be reminded of a yacht on the Riviera: The wood is dark, the walls are cream, and navy accents everything from the banquettes to the sofa in the small front bar area.
Come with a date when you're looking for something in between casual and formal, linger with a glass of burgundy or a
Day Trip
(gin, Campari, soda, fresh grapefruit, grapefruit bitters) at the bar and then settle in for some classic French fare, farmer's market finds and the occasional tableside preparation. For the summer, you'll like the
Mediterranean Ceviche
, but when the weather cools, you'll be back for the wood-burning oven (up and running soon) to start firing
Cote de Boeuf
and
Market Fresh Whole Fish
.
It beats the hell out of marshmallows.