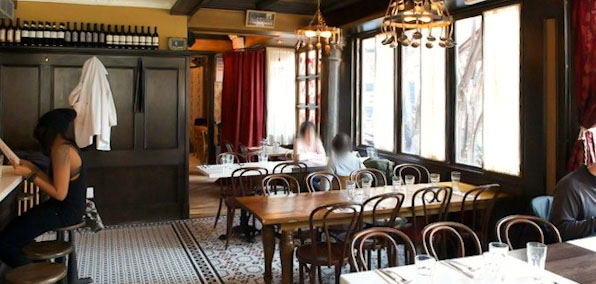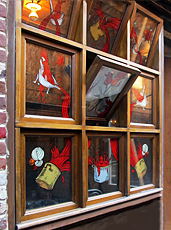 New York doesn't
need
another Italian restaurant.
But if that Italian restaurant happened to have a tableside butcher shop in the dining room, well, we'd vouch for it...
Welcome to
Sauce
, a rustic red meat/red sauce spot where your family-style feasts are cooked and carved in clear view of the table, opening Friday.
Think of this as a grittier, more carnivorous version of Lil' Frankie's and Supper. Partly because it's from the same owner. Partly because cutlery hangs from the chandeliers and your skirt steak hangs from meat hooks in the dining room.
There's a big open kitchen, meaning you'll want to come here with the kind of foodie crew (or third date) that would appreciate watching handmade gnocchi boil. In the rear of the space, a cozy candle-and-brick dining room. Off on the right, behind some protective glass: a butcher, doing his butchery best.
So if you see a particular piece of veal in the window that you think would make for a good parmigiana, just point. If you spot a side of grass-fed beef (or a whole pig) that you'd like to take home with you, they'll wrap it up.
And if you're wondering what happens to all the leftover fat that's been trimmed away from your meat, well, allow us to spoil the surprise. It gets turned into homemade bath soap.
You love the smell of braciola in the morning.