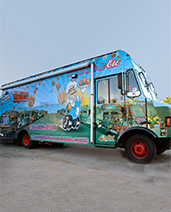 Food trucks: so hot right now.
Meatballs: always a fan favorite (whether you're seated or on the go).
One way or another, this was bound to happen.
Introducing
Turkish Delight by Meatballs & Etc
, the newest soldier in the encroaching food truck army storming our streets, hitting the road this Monday.
That's right, people: now, when you're in between meetings out in say, Bay Village, you'll be able to look at your meatball watch, notice the "you need some" alarm has already gone off and pay these guys a visit (sadly, your Lucky Charms alarm watch will have to go unanswered until you're back at your desk).
With a single order, you'll be devouring some
authentic köfte
(Turkish beef meatballs) with a chaser of meatballs stuffed with mozzarella cheese (gets in your stomach quicker when both items are jammed together).
Then again, you may have just had leftover meatballs for breakfast. Don't worry: there are plenty of other Turkish and Greek treats, like fresh hummus, dolmades (grape leaves stuffed with nuts and raisins) and salads.
And for dessert, go for one of their grilled Nutella sandwiches.
If there's one thing that screams Turkish cuisine, it's Italian chocolate hazelnut spread on grilled Texas toast.