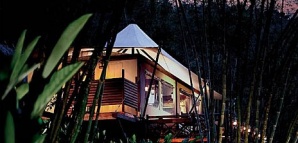 As far as exotic expeditions go, hiking through the untouched bamboo jungles of Thailand ranks very high—being hundreds of miles away from a gin and tonic at the end of the day does not.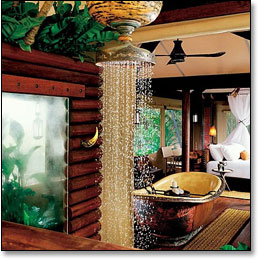 That's why the new
Four Seasons Tented Camp Golden Triangle
is an ingenious combination of adventure and room service.
The Tented Camp, accessible only by riverboat, is a secluded complex of 15 private tents with accompanying spa, restaurant and bar, creating a five-star oasis 50 miles from civilization (the small city of Chiang Rai). The tents are loaded with all of the amenities associated with the luxe Four Seasons brand (like featherbeds and wi-fi), but instead of being in a 22nd floor suite, your 'tent' (complete with zip-down flaps) sits on a hill above the highly remote Ruak River. 
The property is named the Golden Triangle after its location where three countries meet—the jungles of Thailand, Laos, and Burma. Which means that whether you're looking for elephant mahout training or a riverside cocktail (or a cocktail sitting on an elephant that is standing riverside), this is the place to get it.
Because sometimes the call of the wild needs to be answered, but there's no reason you can't be enjoying some short ribs and caviar in the process.