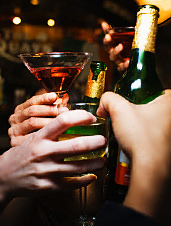 Your life: a string of parties.
But every once in a while, you're the one who has to set the party up.
Actually, no, that's not true. Even when it's your turn, we know someone who can set it up for you...
Presenting
Marlo Venues
, essentially a matchmaking service between your parties and the best places to throw them, available now.
So the big boss wants you to plan a few holiday parties this year. Sure, you could Google a few spots and call around, ask to get a tour of the place, wait for calls back. But you're far too busy (dominating your fantasy cricket league can be a time consumer).
Enter these guys. Once you've
contacted them
and outlined the particulars (number of people, budget, cuisine), you'll choose from over 30 top spots, including Area Four, Gaslight and Bistro du Midi. Then, they'll do all the legwork of calling around, narrowing down the places that fit and setting up personal tours of the spaces.
They'll even create customized experiences for you. Let's say you have a shareholders' meeting and you'd like oysters. Not only can these guys get Island Creek Oyster Bar to open for a private breakfast meeting, but they'll also set up a private tour of the Island Creek Oyster Farm.
Oysters are a great metaphor for record profits.