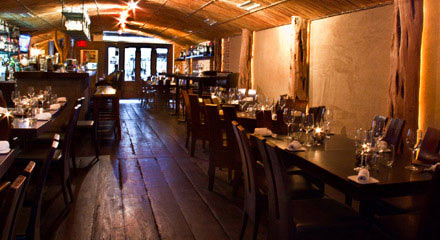 You look tired. (Dashing as ever, but tired.) Maybe it's time to get away for a while. How does South Africa sound? Or better yet, Hell's Kitchen.

Let us recommend a small jaunt to Braai, New York's first South African barbecue spot, soft-opening this Saturday in Hell's Kitchen.

Braai is the rugged South African barbecue hideaway you always wanted but didn't know could exist so close to Midtown. Picture yourself sitting on the grassy plains of South Africa, feasting on wild game meats under the cover of a baobab tree. Okay, so this is nothing like that—except you'll relish that same game meat—ostrich, venison, antelope or oxtail—marinated, char-grilled and served piping hot.

Don't be surprised if this looks more like a hut than your typical bistro. The bamboo ceilings are designed to pull in smoke, so you can get one step closer to the dream: grilling your meat tableside (give it a month or so).

Of course, if you prefer your getaways a little more remote, there's always the Brandy Room, a private skylit spot behind a curtain in the back where you'll find seven different house-infused Brandies (go for the arrowroot and pumpkin). The space is just large enough for you and eleven friends...

Or better yet, one friend and lots of leg room.