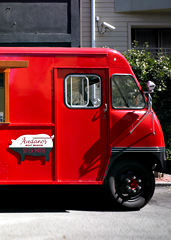 Ah, the lure of the open road.
Wind in your hair. Endless possibilities. Rest-stop burgers.
Okay, maybe not that last one, but that's something butchers with wheels can fix...
Introducing Avedano's Meat Wagon, an all-in-one mobile meat market driven by the lovely lady butchers of Avedano's, rolling out to the Hayes Valley Proxy on Monday.
Lately, making the trek all the way out to their shop in Bernal Heights hasn't exactly been working out for you. So think of the wagon as a mobile extension of the butcher shop, where the butchered meats and farmers' market produce saunter into your neck of the woods.
Whenever you're overcome by an insatiable urge to grill up a T-bone, head over to Octavia and look for the fire-engine-red '67 Ford that once served as an ambulance (also known as a meat wagon back in the day). If the hard-to-miss hue doesn't give it away, the siren on top might (they kept it intact—presumably for the next carnivorous emergency).
Now, the truck's stocked with just about any cut you can get from a cow, lamb, pig or chicken. Their offerings will change seasonally, but everything's hand-butchered at their shop and wrapped day of. So you can expect a wide assortment—from chateaubriand to rib eye to lardo burgers, a Tuscan-inspired concoction made with unrendered pork fat.
Gotta love the Italians.