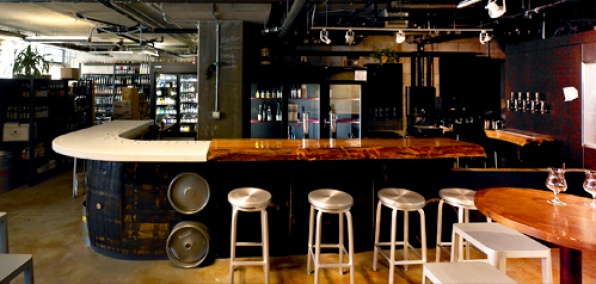 Good things come in small packages.

Bigger is better.

Occasionally, both rules apply...

Cue City Beer Store, the bigger, more beer-soaked 2.0 version of the original brew-obsessed bottle shop and tasting bar, reopening Thursday in SoMa.

So if you've been to the original closet-sized shop crammed with hundreds of beers, you know what you're in for: mix-and-match six-packs, free rein to drink as you shop, the city's biggest craft beer selection and industrial, concrete beer warehouse environs. Only now you'll have triple the elbow room, more beers (on tap and in their new custom coolers) and access to a big wraparound bar made of bourbon barrels, wine casks and kegs (always a good sign when the bar is made of booze).

When you come by, you'll want to toast owners Craig and Beth with one of 15 beers on tap (up from six)—perhaps some pints of their just-released fifth anniversary collaborations like the barrel-aged sour from the Bruery. You could also opt for an exclusive, on-premises-only aged beer like a first-bottling, 750 ml Russian River Temptation from the specialty cooler.

Oh, and you should know about their secret back room that'll be open to the public when it's not being used for private tastings. It's got a two-way mirror, so you can look out, but nobody can see in.

Like all the best secret back rooms.