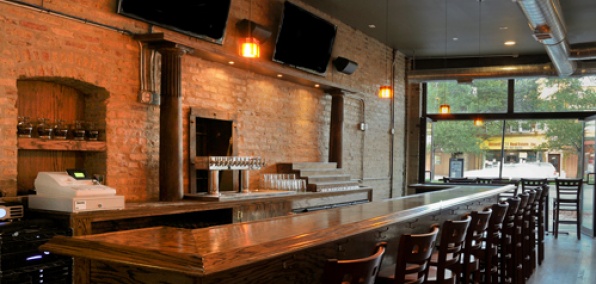 Let's summarize the Bears' season so far.

No, actually, let's not. Let's look forward. We see a lot of winning on the horizon.

Naturally, it involves you and Super Mario Kart.

Introducing The Norse Bar, an Edgewater hangout opening Friday combining old-school Nintendo games and 67 or so really good beers.

On first inspection, it's a deceptively humble bar. A few booths. One sturdy bar. Walls adorned with images of beer bottles on canvas. But Norse is prepared to drop some high-tech science on you: televisions are precisely(-ish) positioned to be within all lines of sight (yes, even in the bathroom), and the sound levels are finely adjusted so you can actually hear them during big games.

While this part of town is a nice neighborhood to find a good leather bar, finding a good tap pouring Dragon's Milk is harder. Okay. That sounded dirty. The point is just that if you want craft beer, they've got 12 on tap and 55 in bottles and cans. If you want a Coors Light tallboy, well, they've got that, too.

After a few, head to the back where two Wiis are loaded with Nintendo classics just waiting for you to battle Mike Tyson, Donkey Kong or Bowser.

It's like being a teenager again. With better beer.