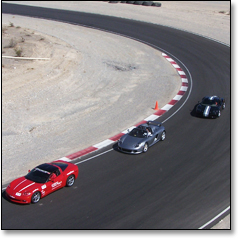 Sometimes not even Vegas can provide the right adrenaline rush. 
Especially if you're trying to open up the engines—the literal engines—within city limits.
But don't worry, we've found a place for you to turn (and turn...and turn):
Club Spring Mountain Motorsports Country Club
, a mere 60 miles outside the city in Pahrump.
Essentially, it's a private country club, except it's in the Mojave rather than the 'burbs, and it's for enthusiasts of speed, not golf. The crown jewel of the newly renovated 193-acre facility is a 3.5-mile road course with 20 white-knuckle turns. Steer your own high-performance vehicle around it, or choose from autos like a C6-Z51 Corvette, a Lotus Elise or a Formula One-esque Radical SR3 Tracksport. 
In case you need a little help finding your Earnhardt-ness, there are three onsite driving schools that anyone—members or guests—can enroll in; or you can ease onto the fast lane in an Italian-made go-kart, which still tops out at a face-tugging 80mph. 
While you're here, earn your pilot's license in a two-seat Remo G-30 puddle jumper, taking off and landing on the club's private airstrip. 
And soon you'll have access to condos, helipads, a spa, hotel, casino, business center...even a few racing simulators. Although with the real thing waiting just steps away, we assume you won't bother. 
You wouldn't want to make your Lotus jealous.