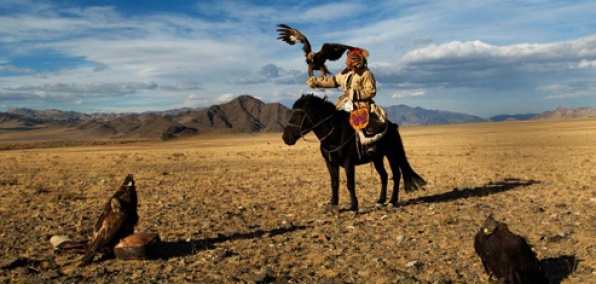 Consider the great warriors of the ages.

The Spartans. The Aztecs. The Jean-Claude Van Dammes.

You've always thought that, if given the chance, you could hold your own against the best of them.

First test: the Mongols...

Introducing Mongolia: Hunting with Nomads, an eight-day, totally customized trip where you'll ride with—and test your mettle among—nomadic eagle hunters, taking reservations now.

You may recall when Keanu Reeves and someone named Bill S. Preston, Esq., brought back Genghis Khan via a time-traveling phone booth. His medieval weaponry skills: impressive. And you'll be traveling the country with that guy's very distant brethren.

So after flying into Ulaanbaatar and soaking up some culture, you'll fly to remote Bayan-Ulgii. There, you'll meet the Kazakh-speaking nomads of the region, stay with a family in their ger (a traditional tent) and otherwise rest up for the real work, which may include archery. And wrestling.

The next few days you'll spend riding horseback in the Altai Mountains alongside elaborately dressed hunters (highly trained eagles on their arms), watching locals show off their falconry skills. And in case you were concerned about authenticity, the campsites (we'll call them rustic) will make you feel like you're living a little like Khan did.

True warriors don't need indoor plumbing.