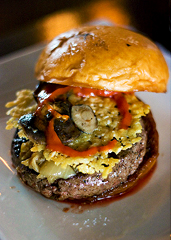 Good news: one of LA's prized burger joints is coming to SF.
Bad news: it's not another In-N-Out.
Good news: you're gonna love this one just as much...
Behold
Umami Burger
, the first San Francisco outpost of the insanely popular hamburger chain out of LA, soft-opening this weekend in Cow Hollow.
If a team of samurai opened a burger shop, it would look like this—woodsy, walls adorned with samurai swords and other Japanese warrior accoutrements.
You'll come here when you want something simple—
easy, house-ground burgers and some local beers
(Anchor, 21st Amendment). As you might have guessed from the name, they've managed to work umami—the so-called "fifth taste," a meaty flavor that chefs have been known to geek out over—to just about everything. Your mushrooms: umami'ed. Your sauces: umami'ed. Your tomatoes... you get the idea.
On the menu, you'll find the classics you may have sampled in the City of Angels: the eponymous
Umami Burger
with mushrooms and caramelized onions, the chili-laden
Hatch Burger
, the beer-cheddar and bacon
Manly Burger
and the
Truffle Burger
. Also, each location gets a signature burger—and this one has SF's only
Bacon-Wrapped Scallop Burger
.
Hard to believe no one thought of it before.