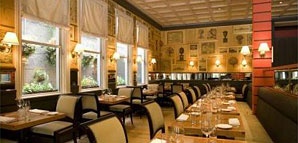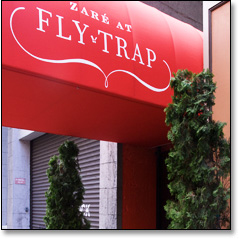 As your fishing buddy Brett Favre can attest, sometimes it takes leaving the scene to know how badly you need to be part of it.
Such is the case with this little restaurant you see here, the Fly Trap. It opened in 1906 and was an SF institution, all piano and white tablecloths and smoky old-school vibe. It changed a few hands in the last 10 years and recently closed down for a short time. Now it's back, post-retirement, with a new chef/owner, Hoss Zaré, and a new name,
Zaré at Fly Trap
. It opens Friday.
Walk into the reinvented restaurant, and you'll notice lingering hints of the old world (maps and botanical prints, stately wood-and-leather bar, a tin ceiling). But don't worry, it's no attic—two communal tables, cherry-red walls and outdoor seating remind you you're in the 21st.
As for the food, the Hoss is putting his feisty Mediterranean/Middle Eastern fare on an all-day bistro menu, so you'll be able to savor items like grilled baby octopus salad, pistachio meatballs and braised single-bone short ribs from 11:30am all the way to midnight.
Allowing you ample space for any nighttime audibles...