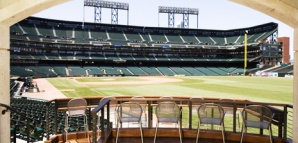 You're always on the lookout for a hip new loft space. Something with high ceilings, hardwood floors and great views.

Oh, and don't forget the chance of catching a home-run blast.

At least, that's what comes with McCovey Cove Loft.

One of two new suites this season, McCovey has been a smash hit (no pun intended), and it's sold out for the rest of the year. But the ballclub is now accepting reservations for the '09 campaign, which should give you just enough time to organize a guest list…

Watch a game here, and you and 39 friends can relax with all the comforts of home—if you lived 309 feet from home plate. The catering is full-bore, so you'll nosh on ballpark bites like roasted peanuts and nachos, plus less baseball-intuitive fare like the omakase-style Chef's Catch Sushi Platter. To wash it down, there's Fat Tire by the six-pack, fresh margaritas, locally made Distillery 209 gin and organic tequila from 4 Copas.

Among the other perks: leather chairs, 10 high-def flat screens, climate control (huge on those chillier nights) and views of both the field and McCovey Cove (so you can track a homer from point-of-contact to kayak-on-kayak sea battle).

And don't forget your deck, which offers perhaps the most unique vantage point in the entire ballpark—under the brick archways in right, just 10 feet above the field.

It's almost as if you're playing.

Only your cup has gin in it.