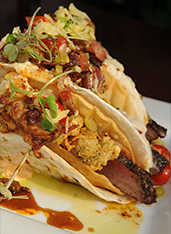 Tomorrow is a special day.
More special than the majority of holidays not entirely recognized by the federal government.
This day is holy, and worthy of observing and embracing with both hands. Literally.
Yes, we're talking about National Taco Day. And we just found your one-pound dish of taco fury to celebrate with.
Feast your eyes on the
New England Surf and Turf Taco
, the kind of taco that would be ridiculous if it wasn't real, available starting tomorrow at Poe's Kitchen at the Rattlesnake.
Let's dive right into what this monster is all about. It begins with smoked beef tenderloin, fried Ipswich clams and jalapeño clam chowder puree. Then, the chef adds red potato, thyme and jalapeño. Oh, and just a little bacon salsa with ghost-chili-seared Hudson Valley foie gras and Vermont cheddar (it's not polite to drool in public, by the way).
But here's where it gets interesting-er: the whole thing comes double-decker style. Which means each taco's interior corn shell is lightly fried in duck fat, and then the outside soft flour tortilla is stuck to it with refried beans made with Harpoon IPA and bacon fat.
Probably won't be seeing this during heart health awareness month.